Portals, 1997 By Juanita Yoder
The beautiful silk banners hanging in the sanctuary are called Portals, by local artist Juanita Yoder. Portals, two paintings on silk, are one of Juanita Yoder's larger silk creations. These two pieces are 126″ x 56″ each, and reflect her thoughts as she imagines the various dialogues that might take place in a spiritual center, such as Church of the Holy Spirit. The geometric shapes within the paintings share and blur boundaries as they exchange color. Bright gold spills down over the pieces and seems to come from somewhere beyond the top edges, and swirling brushwork creates a sense of rhythm and motion.
The pieces were originally designed for celebration and exhibition in the Chapel of the Interchurch Center, in New York City's upper west side, during 1997.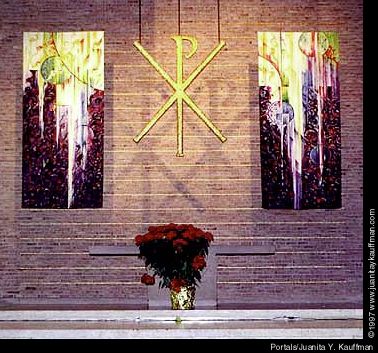 The banners were seen by Church of the Holy Spirit's founding vicar, the Rev. Anne Ritchings, and were purchased and installed in our sanctuary in 1998. Visitors and members of the church often think that the paintings were designed specifically for our worship space due to the use of colors and shapes represented in our stained glass window.
Juanita Yoder's art can be viewed at her website.